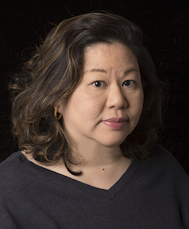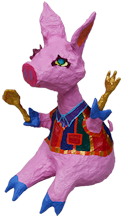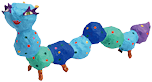 May Nishyama is an artist who creates paper mache sculptures and installations that makes you wonder if you fell through the rabbit hole and stepped into the world of a colorful storybook. Solo & Group exhibitions have been held in New York, Tokyo and Venice. Commissioned artworks have been featured in ads, events and traveling exhibits in the US and Japan. Clients include AEON Group, Macy's New York, Nespresso etc. Currently May's sculptures and installations are seen mostly in her residing country of Japan but picture books are in production so hang on!
MY STORY begins in a small international school environment in Tokyo where I grew up with kids from around the globe. Early on I discovered my love of art, traveling and dreaming and became a young foodie. I moved to New York City to study art and received degrees from Parsons School of Design (BFA 1992) and New York University (MA 1999) while sometimes translating and enjoying life in the Big Apple.

Making Paper Sculptures began while living in NYC. It started from oversized Fashionista shoes to ethereal creatures, to the exploration of the Goddess image and progressed onto installations based on fairytales and mythology. New York's diversity and chaos was exhilarating and terrifying and it was only natural that in search of identity my interests gravitated to myths, fairytales and archetypes for they are universal stories on a fantastic scale, evoking curiosity, adventure and wonder. With playfulness they allow us to question our roles in life and the world, for they are the seedlings that form our consciousness.

After spending 14 years immersed in the Occidental culture I relocated to Japan in 2001 to travel throughout the East and rediscover my Asian heritage. Traveling to lands which I had only read about was a tremendous thrill. Nowadays visual images of exotic locations are plentiful but when one touches the soil and smells the air, shares time, food and space with the people that speak a different language, the experience becomes three dimensional and I believe much deeper and richer.

I currently live in Tokyo where new works of familiar motifs and archetypal stories are created in a tiny studio on Platinum Street. I hope my world of whimsy will tickle your senses and serve as a key to unlock your world of imagination and Magic!


---
東京育ち。幼い頃から旅、食、絵を描く事が大好き。1988年からニューヨークに暮らす。2001年帰国、活動拠点を東京に移す。
1992年 Parsons School of Design, New York. BFA 美術学士号取得。
1999年 New York University, ニューヨーク大学・大学院。MA修士号取得。
『ペーパースカルプチャー』とは紙の彫刻。 欧米で子供の頃誰もが体験する紙を何層も重ね合わせて造形するpaper macheという技法をアーティスト西山MAYは独自に進化させた。
1990年代から女神、星座、靴シリーズ等色彩豊かな立体作品を制作。その後神話やarchetypesの研究を深め女神像等を含むinstallation(空間全体)へと拡大。 個展のシグネチャーは"絵本の中に迷い込んでしまった様な空間!" 多国籍の文化や装飾に影響されたファッション性の強い作品は広告やウィンドウディスプレイにも起用されニューヨークMACY'S百貨店、ロックフェラーセンター内のBWIA、イタリア・ベネチアの宝飾店Attombri、日本ではAeonモールやNespresso等他多数手掛ける。 2004年Le Cordon Bleu料理diploma取得後、展示会場でArt & Foodコンセプトも取り入れるようになり、おとぎの国の晩餐会を催したり、時には音楽を交えストーリーも構成。 2014年より自然神話をモチーフにした作品をAeonモールで発表、それに伴い日本各地で子供達の夢を広げるワークショップ等も行う。
現在も個展やディスプレイを通して世界観を進行中。 MAYのインスピレーションの源は旅や神話、そして様々な文化で出会う人や食。 今日もお腹の底から笑いながら東京・白金のアトリエでペーパースカルプチャーを創っている。